Crawl Space Waterproofing
Crawl Space Waterproofing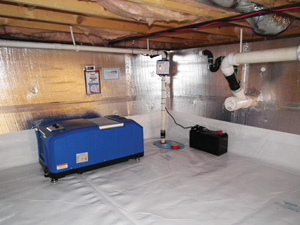 Fixing a wet crawl space with trained technicians
Listen to the advice of building experts, save the heartache and seal or encapsulate your crawl space. This provides a more energy efficient home and eliminates the problems of moisture, mold, mildew and pests in your crawl space. If water is a common issue for you then experts might recommend crawl space waterproofing.
What all makes up a complete crawl space waterproofing system?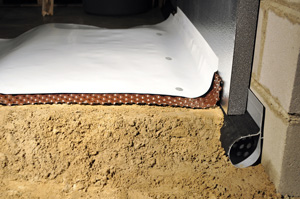 Crawl Space Perimeter Drain
A perimeter drainage system works by capturing and navigating the water from the crawl space dirt floor, foundation or walls to a sump pump via underground pipes along the perimeter.
By installing an interior drainage system you'll be capturing the water at it's most common entry point while avoiding clogging from soil and roots with exterior versions.
For a dirt floor crawl space – The system features a filter fabric with holes on the front and top to accept the water from the soil.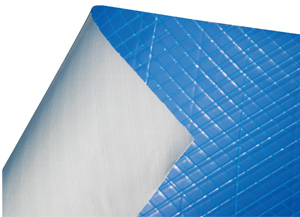 Waterproofing Membrane for Crawl Space
One of the best ways to protect your crawl space is with the help of a waterproof membrane or vapor barrier. This plastic sheets material usually 20 millimeters thick is responsible for permanently preventing moisture, outside air and pests from entering.
This waterproof membrane vapor barrier is laid across the entirety of the crawl space floor and up the walls. This barrier works in conjunction with drainage mats, insulation and vent covers.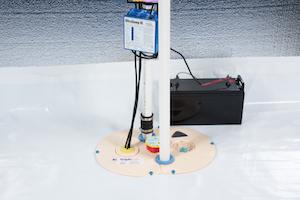 Sump Pump
If water penetration is serious a sump pump might be a necessity. These machines are designed to move water out of your home. We recommend a pump with a high-quality 1/3hp Zoeller pump which is found in most other pump packages.
Flood Alert System: Built into some of the lids is a water-sensitive alarm. This alarm will alert you if water has reached the top of the sump pump's lid. This can most definitely save you from a huge water disaster.
Vapor Barrier Integration: The vapor barrier used for crawl space encapsulation only works if the area is air tight. That is why a sump pump with a special lid that integrates with vapor barriers for an airtight fit is important. If bunching in the membrane were to occur this can allow for water to pool and not be able to reach the drain.
Dehumidifier
After insulating and encapsulating your crawl space, the next step for waterproofing would be to install a dehumidifier. The tricky part is finding one small enough to fit but strong enough to remove upwards of 90 pints of water a day. Not mention your crawl space is often cold so this dehumidifier needs to work efficiently in lower temperatures.
Crawl Space Waterproofing Cost
A homeowner will spend $5,500 on average to install a crawl space encapsulation system. Total costs, including supplies and professional labor, range from $1,500 to $15,000. Overall price will vary based on factors like the size and condition of the crawl space, contractor rates, and materials used. (HomeAdvisor)